899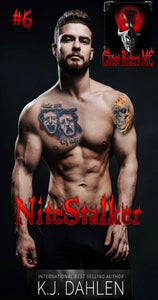 THIS BOOK IS LIVE

Nite Stalker
When the group busts the farm, we find Malcolm and a young woman, Sadie, the same woman I've been looking for, for the last five years. Then she tells us what happened to her that night so long ago. She had been taken and thrown in a cell along with her father, who turned out to be Malcolm Tesler. 
Finally, the full truth is known. Tory takes care of Lincoln and surprisingly, it's Sadie that brings the truth about her mother out. 
Sadie turned the tables on her mother and due to her research, we were able to find the real head of the Thorns. More secrets were discovered along the way, some good and some bad. We all wanted one thing though, to finally bring the Thorns down.

Sadie
The day I was born, my mom just got up and walked out, leaving me behind. That was a hell of a start to my life. I might have been a throwaway kid but I grew up and I learned to fight the odds. Then I became a hacker, not by choice but rather by necessity. I wanted to know who I was. But then I found the Thorns.
When NiteStalker found me years back I wanted more than what I had. Little did I know, I was about to meet my family…When Shay's group liberated me and my dad they brought me to the camp, where I found my NiteStalker again and this time I wasn't letting him go.
When the full story began unfolding in front of me, I told them what I knew and they followed up on it. I only hoped it would be enough to finally end the Thorns.