899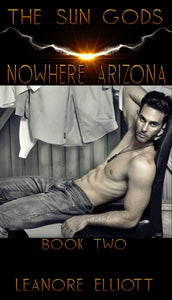 WELCOME TO NOWHERE, ARIZONA
"Home Of The Sun Gods"
As Madeline Sayers adjusts to her new life with Devon, more otherworldly secrets seem to loom over this newfound bliss of a life. Can she hold onto her happiness?
Rick Sayers lost his true love years ago. His life, though filled with his art and the beauty of the desert home he lives in, is empty. Until he finds the Lightning cave and the Lightning pool. Then something otherworldly occurs and he suddenly, inexplicably has the love of his life back in his arms.
Taylor Scott has been a cold businessman for years. He separated from his tribe to make himself a success with millions to his name. Then after he attempts something stupid against his God of a brother, he ends up in a coma.
When Taylor awakes, he finds Kami. He wants her, but he cannot have her. What does it matter anyway, his life of before is over? Then his real destiny comes to get him, as he finds the family curse flows through his veins with the rise of the sun.