899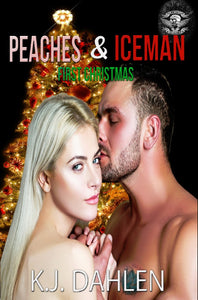 A GIFT BOOK TO ALL KJ DAHLEN READERS
Peaches
Cassie kept the promise she made to me as a child. She promised to get me back to my family and although it took ten years, she finally did it. I was so happy to have my dad and granddad back but I also found someone else. I found a man who stirred my blood, I just didn't know what to do about it.
He kept showing up wherever I was. Then he made his move. I had a feeling he could become my whole world and I was right. He was. They called him Iceman but he was anything but icy.
My world was protected after I finally got back and he was a biker… Would we work? I didn't know, but I wanted the chance to find out. But as usual, nothing is ever easy, especially with my dad and grandad around. I had to find out if he was strong enough to hang on to me, my future depended on it.
Iceman
When Deke came to me and wanted a clear path through my city to find his woman, I told him now wasn't a good time but he came anyway. When he wanted to talk to Calderone about his daughter, I thought he was crazy. I was so wrong…
When I touched her and she wrapped her arms around me for the first time, I felt a jolt. I knew then I'd never let her go. With a family like hers behind her, I knew I could fuck this up but I couldn't give her up.
The first time she gave herself to me, I knew I would never let her go. She was mine, no matter what her dad said... she belonged to me. Now, I just had to convince her. We loved and fought and she's just as stubborn as I am, but we work together. My heart beats in hers and her heart beats in mine.