899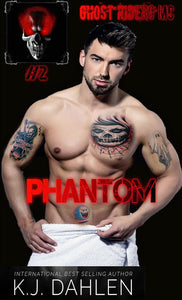 Phantom
I work with an elite group of men, The Ghost Riders. We protect the US and now we're battling a secret group right here at home. We plan to stop them any way we can. But first we need to know who they are and what they are planning.
We've hooked up with others and are peeling back layers of the group, digging deeper than we thought we'd have to, to figure things out. Then I get a message from an unknown. Jazzy, she's hinting at something coming up that might not be good.
To find out what that is, she asking for protection. She doesn't feel safe out there anymore. I decide to take a chance and bring her in. What she needs is to trust that I know what I'm doing. But I guess she has reason not to trust…
Jazzy
I live in a tiny bubble by choice. Life isn't always good to people like me, but you learn to survive with what you got.
Then I stumble into something no one wants, so I do the only thing I know how to do. I reach out to someone I only know as Phantom. For the first time in a long time, I have to trust someone else to keep me safe. It's hard for me but I don't have a choice.
Then something happens and I have to work with him to stop a catastrophe. We find we work well together which surprises me a lot. I always worked alone before. But together, we discover a deeper secret. One we may not be able to stop in time.