899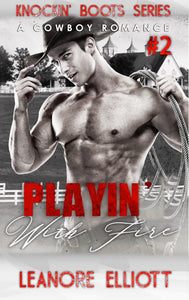 THIS IS A BOOK BY LEANORE ELLIOTT
Light a match and see what you get...
Brea Plush has her hands full as her cowboy really loves her little red boots and she doesn't know if she can handle the knockin'.
Things get to smokin' at the stud ranch as Maggie meets up with Jet Kincade, Cole's twin. He rubs her the wrong way because he is just so dammed cocky, so she sets him up to be taken down a notch or two. 
Kanda Kincade now knows that she shouldn't have played with matches...The burn from her Aussie cowboy may make her go up in flames.
Daisy Plush gets the surprise of her life as the one man that could tame her, shows up in her life again.