899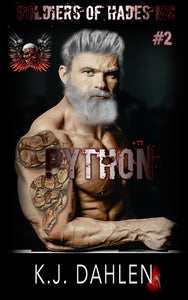 Tiberius "Python" Valin
For well over forty years, he ruled the Hade's Demon's MC. He knew it was time to step down and let younger blood take over and maybe after they took down the cartel, he would do just that.
He'd lost too much over the years, lost too much he would never get back, his oldest son and the only woman he'd ever loved other than his daughter and granddaughter that is. His middle son hated him and his youngest son didn't really know him.
Maybe he was just a stubborn old man with a mean streak a mile wide. People had been telling him this since she walked out. When she left, she took the last piece of his heart with her, leaving him nothing but a shell of the man he could have been.
Then one day, she came back and nothing made sense to him. Where had she been all this time? Why had she come back? She claimed she didn't remember, that something had happened but she didn't know what.
Was she telling the truth? Or was she playing him? He needed to find out, he also needed to guard his heart because the moment he saw her, he realized he never stopped loving her.
Peggy Sue O'Donald
The last thing I remember clearly is the sight of my man riding off on his Indian Chief bike. He fit the huge chrome bike well and boy, could he handle her. I was almost jealous of a machine but that man loved me so well.
My hair was the color of black cherries and my eyes now faded with time were violet in color, something I had passed down to my two sons. But that was the last clear thing I remembered…
Then came the pain and the fear… for so long, I lived with that, then Father Miguel told me I had to leave. He had heard that the man who brought me to their little convent so long ago was going to kill me. The good Father wouldn't have urged me to find my way home if the need hadn't been urgent. The only problem was I didn't know where home was or why I left it. I only had one idea of where home could be, Odessa Texas.