899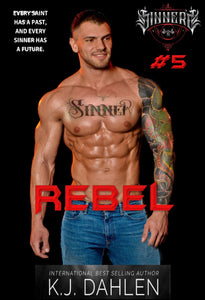 Every Saint has a past... and Every Sinner has a future.
Rebel
The Sinners are my family and I belong here. I like to ride through the streets of Boston in the middle of the night. I feel totally alone and that settles the chaos of the day.
Then I see activity around the docks, so I stop to see what's going on. I stay in the shadows and watch a boat being unloaded. This is unusual, as most boats get unloaded in the daylight. Then I find someone else is watching the goings on too.
When she pulls a weapon on me, I'm not so worried she's gonna shoot me. But when I ask her what she's doing, what she has to say blows my mind. I know Hawk will want to know what she knows about that damn boat. But taking her back to the compound opens another can of worms altogether…
Drew
I was on a mission and out for blood. Castor King had taken the only one constant I ever had in my life and he wasn't taking any more from me. Between him and his dad they were going down even if it killed me…they were going down.
Then I meet a biker. When I tell him what one of Kings' boats is bringing into his city, he wants me to tell his MC. They vowed to stop the drugs from coming into their city and they offered to help.
Once I got to the Sinners compound, I found a secret. I also couldn't leave the Sinners when I needed to. I cannot stay here though. I have people to track and an empire to destroy.