899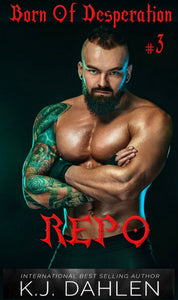 Repo
While following Keller, his bodyguard Carter tries to take him out and escape. We couldn't let that happen, so we found him and followed him home. The bodyguard took Keller's bag with him and we need to get that bag. We hope it's got the paperwork to bring Keller and whoever he's working for down.
When we follow Carter back to his brother's house, I get sidelined by Rhetta and her brothers. They are there waiting to get back something Carter took from them years before. But when confronted, Carter takes the cowardly way out rather than face the music for the evil he's done. When the smoke clears, Carter is dead but his mother gives Rhetta what she's been searching for. After giving Rhetta a fiery kiss that I will never forget, she tells me she'll find me after she takes the medallion home to her family.
I doubt she'll find me but I hate to lose her as well. But we have a mission and that comes first… color me surprised when she shows up inside Boomer's compound. Then we find out she has more information we can use… she turns out to be everything I'm looking for in a woman and so much more—dayum.
Rhetta
Something close to fate led me and my brothers to Carter Winslow's farm. Then this man shows up and our connection is sealed. I know better than to fight it, he's the other half of my soul, our kiss told me that.
Carter and his boss Richard Keller have been in our area and we hate what he's done to our people. They have lied and cheated us and that's not right. So we are taking back what they took from us.
While my brothers go home, I go hunting and when I find Repo, I'm not letting that man go. He belongs to me and I'm claiming him. When I tell his MC what I know of Richard Keller, they are interested in what I have to say. When I find out that they want to take down the Green Mountain group, well that settles it. I work with them and tell them something I know but they do not. Seems we have more in common than either of us knew. I help them and they help me, a beautiful and welcome partnership… hopefully one we will all survive.