899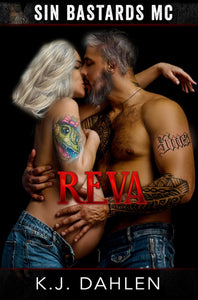 Gator
When this odyssey began, I had no reason to think it would get so screwed up but then I should have known— this was my life. I never thought I'd be a dad but suddenly, me and Reva had three kids. And dang, those kids just stepped into my heart like nobody's business.
Then a miracle happened and Reva is having my baby. After over seventeen years together, we were finally blessed with a child of our own when she had been told we would never have one. This might be our only chance but we were taking it. This baby makes four and our family will be complete.
Much to our shock, the kids seem to think we'll push them out and we have a time to convincing them they are part of the family too.
Reva
My whole life, all I ever wanted was be a mom. When Bulldog hurt me so badly, I didn't think I'd ever get the chance but God had a plan. He gave us Alaina, Benny, and Jacky. Then after all this time, He blessed us with one of our own.
When the time got close to when our little miracle would be here, we noticed the kids weren't happy about something.
We find out that their mom was not a good person and then we had a fight to keep the kids safe. We aren't giving up on those kids until we have nothing left to fight with.