899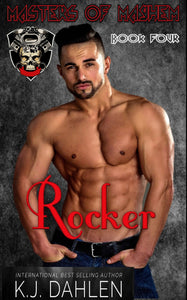 RELEASES JULY 31st
Rocker
I belong to the Masters of Mayhem MC and I finally have a forever home. Never knew my daddy and my mom left me alone long before she should have. Growing up on the streets is survival of the fittest. You either learn to be the best or you die in agony. I wasn't about to die in agony, so I learned the hard way to be the best.
I was just a kid when I met Bull and his sons... I told them I was old enough to join them when I wasn't. I had two more years to go. But Bull took me on anyway.
He wouldn't give me my patch until he felt I was old enough though and that was okay with me, he gave me a home instead. I earned my patch and because of them, I learned how to be a man. Bull gave me a home and I gave him the only thing I had to give, my loyalty.
Then in the middle of our war with Packard, I find her. Everything about her screams she's supposed to be mine— the problem is she doesn't believe it. I have to convince her before I lose her and I'll be damned if that happens.
Blaze
All my life I've had to fight for what I had. Then Packard came to Pittman Creek and suddenly, life got even harder. I have no idea why but he fixated on me and my life just got ridiculous. Now I was hiding from him on top of everything else, I had to deal with.
Then he caught me because I let my guard down. But then his world came to a freakin end when the Masters blew him to hell. Only problem was they rescued me too. Now I have no idea what's gonna happen to me and me not having a plan just doesn't work. I've always had a plan before.
Now I have no idea what tomorrow will bring but when I look into his eyes I have a little bit of hope again, maybe for the first time in a very long time. Then I get a phone call and it rips my world apart again….
Do I take what I have with him or do I risk my world to save someone who meant something to me in the past?