899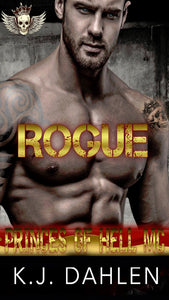 RELEASED APRIL 20th
ROGUE
Book Two
Princes Of Hell MC Series
Rogue
All I thought about is one thing. Get my VP and best friend's kid back safe. I made a promise and I intended to keep it. And no one better get in my way. I've killed three men already to get to the kid. When I found Brett… a woman was with him. I had no choice but to take her back to the club. She had to be in on it with that bastard, Devin and for the sake of my club, I couldn't afford to leave her behind.
Then I really took a look at her and found I didn't feel hate. I feel lust and maybe something else. I have to remain focused though. She somehow has ties to Devin and she has connections to the Bratva. I want her but can I trust her?
Sevannah
All the sudden, my life is turned upside down. Taken prisoner by an MC named the Princes Of Hell… of all things. I've tried to convince them I had nothing to do with the little boy's kidnapping. They refuse to believe me or let me go.
 It was all that big biker's fault. He took me hostage by gunpoint. With a name like Rogue, it's no wonder. Though every time he looks at me with those piercing blue eyes, I seem to forget all of that and I'm drawn in. But I have to stay focused on getting out of this mess, alive and in one piece.
(Talon and Fiona's Story Continues in Rogue)