899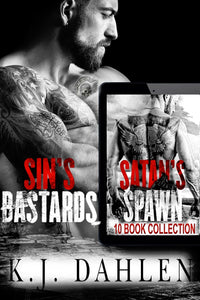 Settle in with this huge set and discover the Satan's Spawn & Sin's Bastards MC in all their glory
11 books
In this suspenseful series, Deke and Cassie meet in an explosive beginning. After several attempts on her life, Cassie finds her place in Deke's MC world. When more than one MC is dragged into the fight for survival, the lives of those concerned are fused together by a common brotherhood…. to save each other and themselves.
Deke and Cassie aren't the only ones who are struggling. Sam and Melora, Gator and Reva, Peaches and Iceman, Mountain and Izzy, Cricket and Raine are all fighting to find their way, in life and in love. When the drama includes vengeful ex-husbands, psychotic female killers, stolen relics, hired hitmen, a cartel and the mob, things can get a little crazy.
Over 2,000 pages filled with a love story for the ages and MC justice at its finest.