899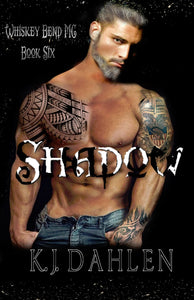 To Release July 20th
Whiskey Bend MC
Book Six
SHADOW
When  the past in known the truth will be as well.
Shadow

I found my home when I came to Whiskey Bend, these men had become my family.
Then my sister called. Her friend was in trouble and she thought maybe I could help
Chloe had a past but the only thing was she couldn't remember it. She was too young when her parents died.
Now someone wants her dead too and his property back. As she didn't know what that was... I might just lose her to this maniac.
He might be willing to kill her but I'm willing to defend her until the day I die.
Chloe
I was drifting without a past or a future until one day that changed. I had a photo slipped under my door with a question written on the back.
The question read, Was I that little girl? To tell you the truth I didn't know.
I went into the foster system at the age of six, too young to even remember my parents. Now seventeen years later my past is coming back to haunt me.
Shadow promises to stand between me and bullet, question is can I depend on him once the truth comes out? Will he stay and defend me or kick me to the curb?