899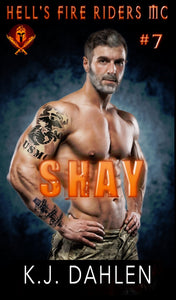 Finally-- Book #7 Hell's Fire Riders MC
Shay
I know I have to step down from service to my country soon. Family is supposed to mean something and I let mine down badly. But I have a feeling that what I do next will get me disowned as my last act, will be taking down a band of home grown terrorists. I'd really hate to find out if my parents had anything to do with this group but it wouldn't surprise me. I have to let the chips fall where they may and I will.
Then I meet her…and at first, she doesn't even like me but hey, I can live with that. I don't have many friends for a reason. But the more I learn about her the more I want to change her mind about me.
Then push comes to shove and when it's over and the dust has settled, I am sick to death of the very people that I was raised around. They thought no matter what they did, I would be there to protect them. I would have if they hadn't betrayed the country I stood behind.
Now, I have to protect her. The backlash of which she might not see coming. But we're also gearing up to go to battle against the cartel. I don't want to die without letting her know that she matters to me. Maybe that's selfish of me but my heart wants what it wants and who am I to deny it or her?
Kelly
The one thing I promised myself when I found out who my father was and what he did to my mother… I was going to hunt him down and make him pay for his disrespect to her and to me too. But the past has a way of fading and when I found out what kind of man he really was, I let it fade into black. He had bigger problems than me.
That's when I meet the man who can help me take my dad down and I want to cheer him on. I want to be there when it happens so badly, I can almost taste it. That promise he makes means more to me than I let on and Shay is beginning too as well.