899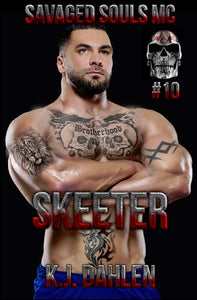 Skeeter
Just as I'm about to break my last tie to the Rangers before I can let that part of my life go then come back to the club, my past comes back to bite my ass. The only problem is it was never my case, and I'm being charged with a crime I never committed. A crime that could send me to prison…WTF?
I need some serious help and I need it like today, lucky for me Janice is still around and she steps in as my attorney. When more evidence turns up that looks very damning in everyone's eyes, I have to wonder what's really behind all this. It seems I've made a powerful enemy. I just have to put a name to him or her, before I can begin the fight of my life, a fight for my freedom is on the line.
Then the other side makes a really bad mistake, they come after Janice and I. Well, that's not gonna fly, not with me and not with my club. We protect our own and she's one of us. As my woman, I will always protect her.

Janice
I came to Texas to finally find my niece but I found so much more than I bargained for. I found him. He had me at first glance. He started a fire in my belly that won't go out.
Then his past comes back to haunt him and he needs my help. I may not know bikers but I know my way around a courtroom. He says the charges levied against him are false and I believe him. I know he's being set up and so does everyone else there, the question is who's behind it?
Then his enemy comes after us and that's a mistake, she never should have made. She should have stayed in the background because now the boys won't stop until she's dragged out into the light.