899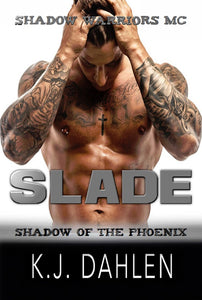 Shadow Warriors MC
No one is going to hurt her, not on my watch
Caden Slade
I'm a man used to taking control, ex-military and now a leader of an MC.
All that changed one night with a phone call and I was called back to duty
For the safety of my country and her
She may be a small woman but she packs a punch I'll never get tired of.
Now I have to stop a hidden agenda that's been festering for years to take us down and stay alive long enough to keep her safe.
Piper Haden
When a friend insists I read a book my whole world is shaken but I know I can't fight this alone, I wouldn't even know where to start.
Then the Shadow Warriors come to the rescue and the world as we know it might just stand a chance.
Slade gives me more than hope, with him I feel home and not so alone.
Question is can we survive and find out if this is real?