899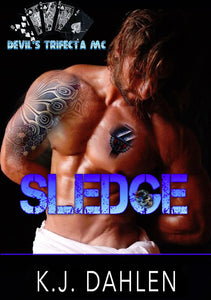 WAS RELEASED JUNE 26th
SLEDGE
BOOK THREE
(The Devil's Hammer)
DEVIL'S TRIFECTA MC
I'm a Lieutenant for the Devil's Trifecta MC. I protect all in the club and considering my size and skills, I am your best bet. Once I met Sable Quinn and her team, I realized they did the same job, except, they followed the law and I never did.
I 'm called to help them again… the Spencer Security Firm. This time, we need to protect Sable and another woman. I would lay down my life for Gage's woman. He dropped everything to come and stand by her. And I stand by him.
I meet the other woman that needs protection…only she doesn't seem to need it. She's a cop. A feisty woman with a mouth that doesn't quit. I don't befriend cops, it's bad for my business. But Marty is some kind of woman, one like I have never met before.
And even with my size and the Biker cut, I don't intimidate her a bit. Now that is different. She intrigues me and draws me to her. I cannot seem to stop the attraction.
Why would she want a huge biker like me, with my scars, tats and rap sheet? I intend to find out if she does want the man they call the Devil's Hammer-the Sledge as I lay down my life to protect her from a killer.