899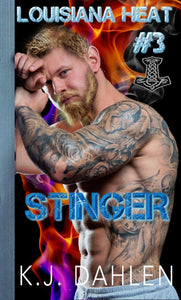 Stinger
As an MC, we were about to fight for the right to survive. We'd been here in this small town for years, when we lost a brother to what we thought was a skank of a woman. But when the truth finally comes out, we find she'd gone to prison for nothing but a bunch of lies. Lies, other people told to hide the town's wealthy family secrets.
Now slowly, those secrets are coming to light. Those secrets could cost us more than our lives. To protect the innocents around us, we have to take them on and bring them down.
The trick will be to see who's stronger and faster, us or them. But we got Wynette on our side and she knows the secrets this family is hiding. She's got attitude but that's ok, she's on our side.
Then we come across her, Fallen. And she's looking for answers to explain where her sister disappeared to ten years ago. Her sister is part of the secrets the Zetran family don't want known. Her coming back could set off the war we're determined to win.
Fallen
I was just a kid when my sister disappeared. But she was more than just my sister, she was my twin. I came back here to try and find out what happened to her. I knew it wouldn't be easy, she disappeared ten years ago, but I had to try.
I knew Jolene had been seeing someone but she never told me his name. After she was gone, we moved away as my mom was heartbroken but I think it was more than just that. My father had been forced to leave, I later found out.
What I didn't know was who or why. Then I grew up and decided to come back, little did I know what I was walking into. I had a feeling there was going to be a war around me very soon and it would be bad.
Heaven help me, then I was snatched out of the jaws of death by one of the players, but was this a good thing or a bad thing? I guess only time will tell.