899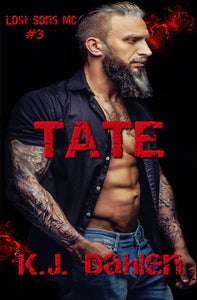 AUGUST 24th
Tate
I had everything a man could ever want, a wife, a family and an MC, until eight years ago.
In what I thought was an accident I lost my wife and my mother, then over the next two years I lost everything else. My family and my MC. All because I didn't want to play another man's dangerous game
Then I lost something even more valuable. My freedom. One of my own brothers kept me in a cage for six long years. After I was rescued, I was more determined to get back what they had taken from me.
Only after I got it all back did I find out my wife was still alive, that she had been lost all this time. I would get her back… whatever it took, but I had to find her first…
Nita
I had a life at some point, I just couldn't remember it. When I woke up eight years ago, I was alone. My heart knew something I didn't and even now after all this time, I should be remembering something that was important to me but I just couldn't think straight.
Then one day, he knocked on my door and when I saw him I didn't think I knew him but the more time I spent with him, the more my heart told me he was the one I'd been missing.
Did my heart know him? If it did, why couldn't I remember him? Then he kissed me and my soul told me he was the one man I loved, but how was that possible?
But there was something about his kisses that brought back so many memories. All I had to do was believe….
Until someone decided, I needed to die for some deal that had been made a long time ago. …Can Tate save me yet again, before it's too late?