899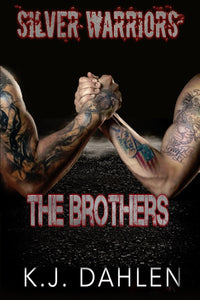 The Quest Continues…
The Fourth stop- Owensboro, Kentucky- Emmett Brown- A.K.A. -Viking
As the six ex-military men and three civilians roll into Owensboro, Kentucky to collect the next man on George's list,trouble follows them into town. Jack and his buddies Chewy and Tebo found them again and this time, they don't plan on losing them. They got orders from Ferris to take Wren and bring her back to DC, to him. He's got plans for her. He also tells them to chip the convoy , so they know where they are going.

Emmett Brown was waiting for them when they arrived. He hadn't changed much since they last met, except now his hair was going white instead of pure black like they remembered. He was still the meanest, orneriest black man they ever knew and he was still stronger than an ox. Emmett laughs and tells them his job is what made him so strong- He's a blacksmith as he's always loved swords from a hundred years ago. In fact, he's got his equipment all packed up and ready to take with him. He isn't leaving anything behind. He tells them there isn't anything to hold him there anymore.

Trouble comes to them later that day in the form of a woman. A woman named Rosie. When she begs him to take her with him, he doesn't hesitate. He's been in love with  her for years from afar. He just thought he didn't have a chance with her. Then her family comes looking for her and when he takes his stand he finds his men stand with him. They even claim to be his brothers.

The showdown is awakening for the whole damn town, as the people finally take their place on Emmett's side. Rosie's family has no choice but to leave her alone.

When they leave the next morning on the next step of their journey, Rosie is sitting beside her man and the group is off to Dixon, IL