899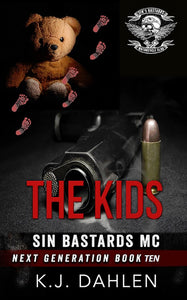 Sin's Bastards MC- The Kids- 
Eleven years after they were born, CJ, Doc and Molly Grace along with some of the other kids at the compound are playing a game of hide and seek when Molly Grace sees something she was never meant to see.
She witnesses a murder and the killer saw her face. Will she be his next victim or will the MC protect one of their own?
Well, the MC always protects their own, don't they?