899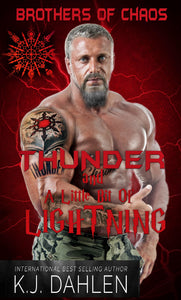 As the dust settles and life moves on, I have to admit this is the way life should have been all along. Getting to reknow my woman and having both my kids around me feels so good.

Even my brothers have seen a difference in me. They keep giving me the evil eye every time I smile, almost like they are waiting for the old me to come back and reign my fury down on their heads.
But they have no idea and neither did I until recently. My rage had to do with my woman being gone. My soul needed Shelby in order to calm my storm. Oh, I can still raise more than a little hell if I need to and I probably will but for now, she soothes the beast inside me.
My daughter is all grown up now. I missed so much of her formative years and she seems to be in love with my second in command, that's enough to throw any father off his kilter but then my son, the son I never knew I had until recently is still mine to protect and I intend to show him what life is all about.
Shelby and Gabe have been here fora while now and the world is a grand place. Or it should be but my woman is keeping secrets again. She's acting just like she did a dozen years ago when she was snatched away from me. Something is going on with both her and Phoenix but neither of them is talking. My old fears are beginning to rise and I don't like it.

The old Thunder might have to come out of hiding to get to the truth… and sooner rather than later.