899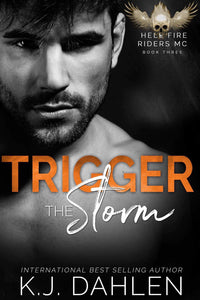 Hell's Fire Riders MC
BOOK THREE
When a young woman named Georgia is kidnapped and beaten, she breaks free and stumbles away to safety. She has something important to tell Mountain, the former President of The Son's Of Satan MC in Sabine Pass, Texas.
Caine, the President of the Nomads MC discovers Georgia injured and unconscious in front of his clubhouse and at her constant insistence, they take her to Sabine Pass. Turns out, this petite woman, Georgia is more than she seems. A gunsmith and weapons expert, in fact. Her message will determine the fates of anyone living along the Gulf Coast as she uncovers a terrorist plot to sink oil rigs in the Gulf.
Stone Masterson and his Hell's Fire Riders join in the battle to prevent this act and a few others by a group known as the Bleu Vipers.