899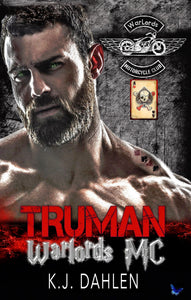 (Readers say this is the most breathtaking KJ Dahlen Chapter Book to date)
WarLords MC
Book One
Ace (Truman) and his brothers went looking for their little brother Joker, who'd disappeared.
When they came to the town of Braaken Ridge to find him, Truman found Charli. A sassy spitfire of a woman.
Charli knew what had happened to their brother. She would be the catalyst to all hell breaking loose in this small town, the key to the Warlord's Mission and the first woman to ever grab Truman's heart.