899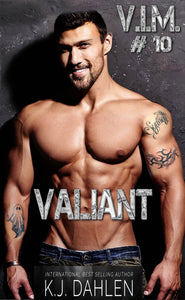 In Valiant, many secrets are revealed. The Jessin brothers finally learn who their father really is. They also find out who the woman is that Lancelot brought to them and this is a shocker to them all. Is it fate or is it fatal?
 They now have a new killer in their midst. Angry and defiant, this woman could bring them all down with the secret she holds.
 It seems that Sandy-dear old mom had one more evil card to play even after she was gone. This card could have one Jessin sibling pitted against another…With just one name. The VIM may get torn apart, if they don't do everything to combat this evil plan.
Can VIM survive these new twists and turns?