899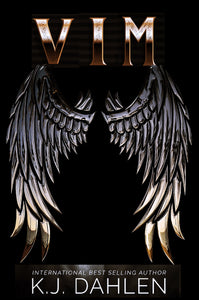 BOXED SET
SEVEN BOOKS 1,400 Pages of VIM
Bane
My life revolved around death, they told me I had no soul. Until I paid the ultimate price and got a Do Over.
James ( Ghoster)

They call me Ghoster for a reason… I flit between the shadows of the grey areas, never staying long enough to get caught but long enough to know where to go next.
Damon
I was offered a do over. A once in a life time offer, to start my life over. I did a lot of bad things in my career but there was only ever one regret. Once upon a time, I had a wife and son. And I lost them.
BANE'S SHADOW
I thought I left this world behind me two years ago, but my past won't stay as the past.
Cane
When I found my brother, my twin I also find a piece of me I didn't know I was missing. Why we were separated is still a mystery but we will find out.

Sebastian (The Priest)

When I get a certain itch… I know something bad is coming for me, well that itch is becoming a burn and I have no clue what it means. Something from my past is coming and I can see the black cloud closing in.
Kill Me Twice
Bane and Cane find their dad and speak to him about why he never found them, why he let his own father raise Bane and why he left Cane behind.…