899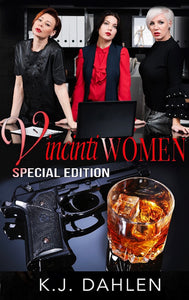 This Special Edition will have John and Meena's Story
When an unknown enemy tries to take down the Vincinti men, their first thoughts are to protect their women. Leon, Calderone and John try to do just that, keep it from Evelyn,Willow and Meena.
But the women have other ideas. While they figure out who's really behind the attempted coup, the women show them they've got their backs… always. They may not have the brawn but they got something more— true grit.
They are after all…. Vincinti Women.