899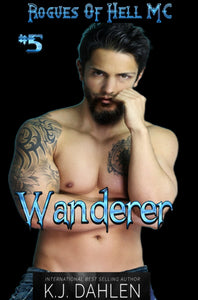 Wanderer
When Cat tells us we have to rescue a woman from in front of Isobel's house, I wasn't sure who she was or what she wanted there. When I was carrying her out of there, something clicked and I knew it didn't matter who she was—because she was mine.
Then we heard her story and she opened a new can of worms, that's for sure. But I couldn't turn my back on her. We found the man who was meeting with Isobel and called him to answer some questions. We find out he's Wren's uncle, then the story takes a turn no one expected.
We find out Wren has a powerful family but Cat has more to tell them about Wren's dad. He never betrayed his family and after they find what he left for them, they go after Isobel. But she's got one more life to live. When Isobel comes after Cat and Wren, she finds resistance from an unexpected source.
Wren
I was found in the arms of a dead man at three months old. The woman who raised me gave me her all and a few clues to find the truth. The truth was nothing like I imagined it would be, but it leads me to my family and to Wanderer.
From the moment he touched me, I felt safe and that meant something to me. I never felt that before and it drew me to him. For some reason we clicked. Then secrets were revealed and my life turned around so many times I couldn't even tell what was real. I suddenly had family—lots of family.
Then mommy dearest showed up for one more showdown and that doesn't end well for her. But the saying goes, you can't miss what you never had. Life does go on, I guess and I can't wait to see what tomorrow will bring.