899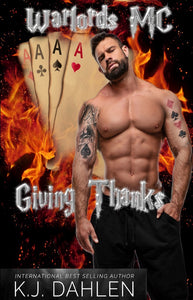 After being together for almost a year, Truman, "Ace" still has a lot to learn about his Charli. As do all his brothers with their women… a fact they are about to learn the hard way….
Ace may have been the first one to fall but he was also the last one of his brothers to get married. He and his brothers have been making plans for the holidays to go to Vegas. Ace thinks that while they are there it would be a good time to get married, as a surprise to Charli. His first mistake is making plans without her…
But Charli won't go and she won't give him a reason why she won't go. Luna and Jade decide if she's not going then neither are they. Mags and Rowen were willing to go but not without the others. His second mistake is pitting his stubbornness against hers…
It had been a year now since they cleaned up their little town and the dust settled, but Charli was holding something back and Truman couldn't figure out her secret. He thought they were all in a very good place and he was ready to take the next step with her but lately she'd been distant with him and he didn't like that.
Taking the bull by the horns he decides to find out once and for all what's going on… His third mistake….