899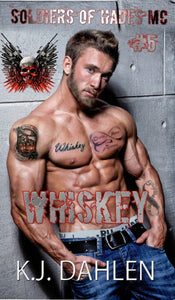 RELEASES DECEMBER 12th
Whiskey
We all have secrets and baggage from our past and I'm no different. I loved only one woman and had that woman ripped out of my arms by a man I'm still hunting today. When he left my wife and son dead in his wake…. I died too that day. Then the rage began to build in me and I wanted his blood spilled.
Along the way, I found another kind of family in Kelly, Pops, GTO and the others. It felt good to belong again and now, we have a purpose. Some of the hatred I've been living with has been set aside, then I found her.
She claimed her name is Sydney but she has more than one secret in her eyes. I don't know if I can trust her but I want to. Her touch sparks a maelstrom inside me and I know I can't let her go.
Then I find out she's hiding from the same man I'm hunting. The pain I feel is like losing my family all over again, but I have to be strong, strong for myself and strong for Sydney. I can't lose another woman again, not one like her. I guess here is where I make my stand.
The fates now hold my future.
Sydney
I was on the run for a reason, a reason I could never tell another soul. I witnessed something very bad five years ago and I had to hide or die. Something inside of me died that day, something I thought I'd never get back.
Then I was working in Hondo and while it wasn't a bad job, it had its secrets too. Secrets that could get y a person killed. The cartel was under our feet and doing business, using my job as a cover.
Then I met him. A man I thought I would never see again, not in my lifetime. He was five years older now and still as angry as the last time I saw him, but I guess he had a reason for that anger.
Then the one man I feared and he hated found us both again and now, it was a race to the finish line to see who would win the day. I chose to make my stand with him. Could we both win?
I guess we'll find out when the smoke clears