899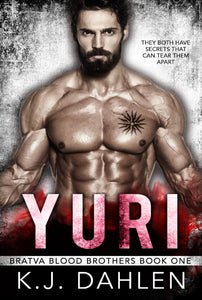 Yuri
 He knew he wasn't looking for anything pure or righteous. 
He'd never known tenderness, nor did he want to know. It didn't fit with being Bratva. But when he met her, this tiny bundle of woman, he almost wished he were different. There was something about her that appealed to him, something deep inside him. 

Something he never realized was even there. She had reached down deep into his soul and taken a piece of him he didn't know was even there. 
For her, he almost wished he were different. 
Because now that he had tasted her, he wouldn't let her go. 
Raven
She knew who he was and what he was but she never expected to be drawn to him. She had nothing to offer a man like him. 
He was one man she never should have met, let alone been allowed to taste. He was everything she'd ever dreamed of and so much more. 
She knew she should have walked away from him for her own sake. 
But if she did... she'd be nothing more than a shattered soul