899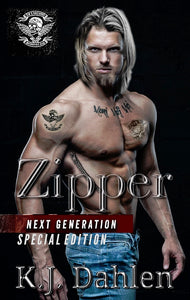 AUGUST 31st
When a threat comes to light, the women of the Bratva and the Sin's Bastards go underground to dig out the threat, along with some help from Zipper. Can they stop the threat that is supposed to take out both the Sin's and The Bratva in New York?
Can Raven, Serenity, Cassie and an unknown woman called Manhattan Girl help stop the threat from taking out their men?
Zipper
When someone takes a hit out on my President, Deke Tory... I have to move fast.
I'm what you call a computer wizard and I work for the Sin's Bastard's MC. My skills were legendary until I meet her.
I get a message from a girl calling herself Manhattan Girl. She knows more about the threat than I can verify and she tells me it's very real. She also adds a name to the hit list. Yuri Anatoly and we find he is of the Bratva, of all things.

She offers to help me put it down. I then find she is in immediate danger and she won't let me help her. Can I trust her? She's a complete unknown to me, so dare I take the chance this is real?
Manhattan Girl
I learned a long time ago that girls like me were supposed to never be seen or heard, but I actually lived this as my uncle kept me locked away, year after year. I read books and played on my computer while I wished to actually be free to live.

Until the day, I heard my uncle planning a coup on two very big organizations in New York. He was always a greedy man and a mean man. I hated him for what he'd done to me and my parents.
Then one day I got the names I needed of who he was going to kill. I reached out and told the only person I could reach. Then I planned my final escape. If I failed, I would die this time. Will this unknown man be able to save not only myself but the Sin's Bastards and the Bratva? Lord, I hope so…